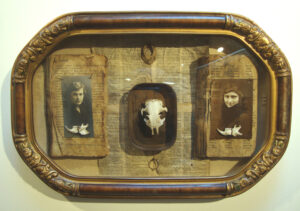 This recent body of work is an attempt to relate on a visceral level the commonality of our experience with being and the knowledge of someday not being.
My interest in nostalgic items has caused many individuals to bring me old books of photos. This phenomenon combined with my wife's recent interest in genealogy brought about my experimentation with this subject matter. Through research on genealogical websites I have been able to return some of these family heirlooms to their rightful owners. I also discovered that the majority of these family albums come my way because the family line has died out and there are no descendants. We kid ourselves that our existence (though precious) will be remembered long after we're gone. The persons in these photographs all lived less than 100 years ago…no one is left to remember them.
The sum result of this knowledge is a bit daunting, but it makes us realize what is truly important. The relationships we have, the experiences we are fortunate enough to endure make this whole journey worth living. Our interaction with situations, individuals, and our own experiences makes for a powerful dialogue when we ponder the void. It is said that no one gets out of life alive. This statement may be true, but it is also what helps us all to have that common bond running through humanity.
Our species knowledge of its' eventual fate sets the stage for musing about the ephemeral nature of existence. No matter what separates us (language, culture, or the period in which we exist) we all relate to our mortality. This knowledge and the use of relatable objects help to inform our reactions with this body of work. A bit of humor here, a touch of nostalgia there, and we are able to easily decipher what makes us human.
While it is important to appeal in a more universal nature it is also important to deconstruct why something is universal. Relationships, language, and our cultural moorings all make for an in-depth dialogue on what it means to exist as a sentient and cognizant entity.  When you take a word back to its' original source there is a moment of epiphany. You have used this element your entire life, but now you see it in a different light…with a new understanding. This act of consciously looking at a subject without preconceptions leads to a deeper examination of our world in general. A new comprehension is at play with reality and experience.
I have struggled mightily with the public perception of artists as personages who live outside of society. This view does have some merit…sometimes to properly observe what's going one must be somewhat detached. Unfortunately the general public is downright hostile to much of the cutting-edge work being produced today. As artists, critics, and curators we bear some responsibility for this attitude. This is an era in which diamond-encrusted skulls, flaming dog turds, and dirty beds are presented as high-art…no wonder there is a disconnect with the general public.
I find there is a bit more genuine emotive value in trying to relate in new ways with more common objects that do not shock, insult, or demean an audience. This is one reason I view genres such as Outsider Art, Folk Art, and Art Brut as less pretentious and more inclusive. In order to reach your viewership you must create works that both speak to all levels and operate on multiple levels.
This all brings us to the actual usage of materials. In order to immediately careen the viewer into the position of a new perspective the materials must be used in a usual (yet accessible) manner. These unorthodox combinations of very mundane objects are a prominent trait of much of the Outsider Art I so admire. There can be a certain shrine-like quality to this genre of work. In some ways this is a remembrance of individuals that existed long before my time by my simply taking a totemic image of their existence and including it in my work. The graduation of a simple object by it's inclusion in a rumination on mortality and shared experience.
This shared experience is what helps to transcend the media and speak of our common environment. The point of this is helping persons to relate in a positive fashion towards humanity. We are constantly overloaded in these times…bombarded by the crush of an ever-growing population. In many ways we insulate ourselves, but in some others we lose a bit of our humanity. These pieces are gentle reminders that what we share far outweighs those things that separate us. This view propionates the human race as a collective rather than an endless chain of competing individuals.